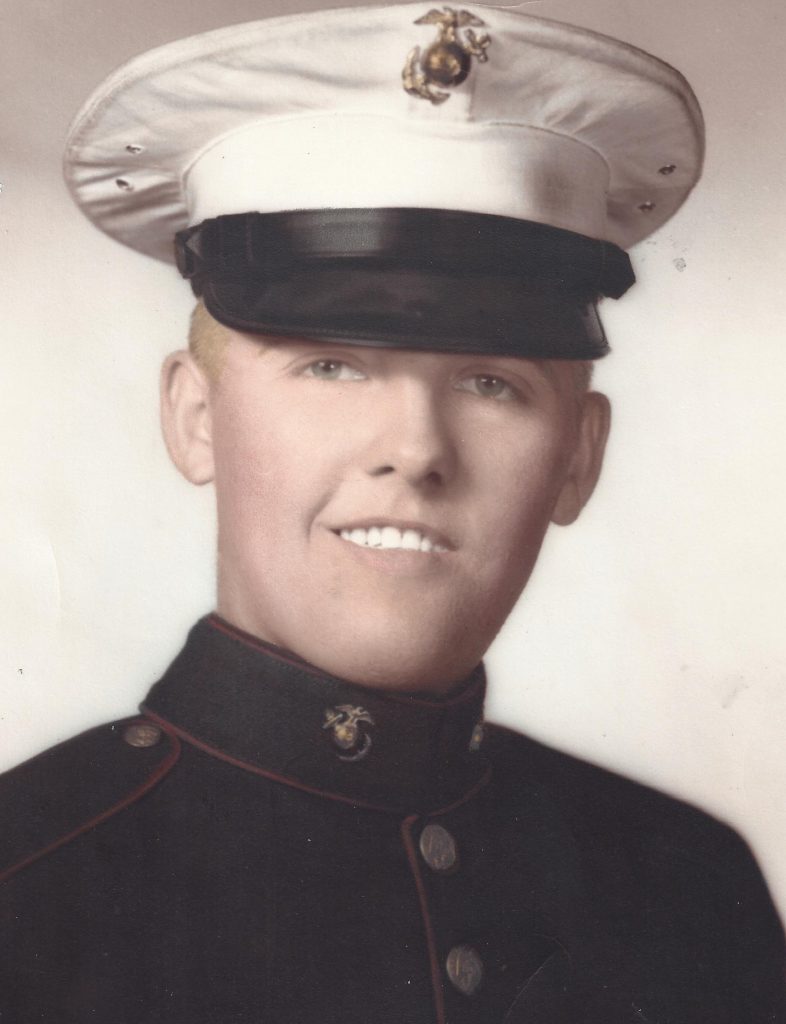 By Bonnie Finnerty, Education Director
This article was originally published in the Summer 2020 edition of LifeLines and is re-published in honor of Father's Day.
My dad was a Marine.
That alone tells you something about my childhood. We woke on first call, ate what we put on our plate, and attempted perfect corners when making beds.
Although my father spent just three years in the Marines, his service would have a lifelong impact on him and the family he would make. The military gave my dad, whose own father died when he was just eight, structure, discipline, and pride in a job well done. These qualities would influence how he and we would live.
My dad also played ball with us, made our tea every morning, and without so many words, showed us he loved us. He endured the loss of his 16 year-old daughter as well as his oldest grandchild, and due to an injury sustained during his military service, retired on disability earlier than he would have liked. Life's trials toughened but never defeated him. At times, he seemed indomitable.
When I was 19, I saw a different side to my dad, one that surprisingly emerged after having my first child.
Suddenly the man I was afraid to ask for the car, the dad who stayed awake until everyone was home in bed, the meticulous Marine who trained us to put everything where it belonged, was magically transformed into a big, soft teddy bear of a Papa. All because of a little baby girl who came into our lives at a most unexpected time.
I won't lie. He was not happy when my now-husband and I told him we were pregnant. But it didn't take long for him to model the resilience he'd demonstrated his whole life. He and my mom would support us under one condition: I went back to school to finish my degree.
Growing up poor and without a dad, he'd never had a chance at an education. And he wasn't going to let mine slip by.
He would care for our baby when I was in class. As the youngest of five, I had a hard time picturing this because I had never seen my father even hold a baby, much less care for one.
Then she arrived. Suddenly, the strong disciplinarian who raised me was now held captive by a newborn weighing not even seven pounds.
With her, he was gentle, attentive, nurturing, and even silly. My invincible and sometimes rigid father transformed into a doting and whimsical grandfather, and for the first time revealed a vulnerability I had never before seen.
The miracle and power of new life!
When we had our son three years later, my father helped watch both kids while I completed my Master's Degree. He thrived on being a caretaker to them, and they thrived under his care. A special bond was formed with them, and subsequently, with all 16 of his grandchildren. "Papa" was his new vocation and he embraced it with the same enthusiasm he had embraced military life.
So it was especially hard for all of us to watch our family patriarch, the soldier-caretaker, enter into his final battle combatting Stage 4 Mesothelioma. Given just a few months to live, he defied the prognosis by actively living for a full year.
Eventually, though, hospice care did become necessary. Remaining true to self, he offered gentle instruction to the home health aide on how to properly make a bed. Once a Marine…
He ultimately lost the battle. He entered into eternal rest on May 1 after bidding us all good night and gently dismissing us from his room…Always a Marine.
A man of deep faith, he leaves a rich prolife legacy that the gift of self, whether to country or to family or even to the stranger we encounter, is the noblest of callings. A lesson deeply ingrained in us by his example.
Semper Fi, dad. Good night!