By Michael Ciccocioppo, Executive Director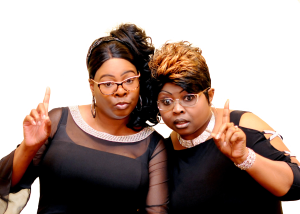 Due to the overwhelming demand, the Pennsylvania Pro-Life Federation's 40th anniversary Celebrate Life Banquet featuring Diamond & Silk is SOLD OUT.  But, there is a way you can still come and hear these pro-life sensations and see them in person on Tuesday, October 15, 2019.
As an alternative we have arranged to have theater style seats set up in a room adjacent to the banquet ballroom where people can attend their pro-life presentation on a big screen via LIVE video.  After their presentation, Diamond & Silk will leave the stage in the ballroom and immediately go to the theater room for a brief chit-chat with everyone there.  So if you are there you will see them in-person!
Tickets are available now for $30 each. 
To purchase up to 10 theater tickets for you and your friends and family, please click here now.  Or you may call 717-541-0034, Monday through Friday, 9 a.m. to 5 p.m.
There are a limited number of theater tickets available.  When they are sold out, there will be no other options to see Diamond & Silk on October 15th!  So do not delay.
WHEN YOU ORDER YOUR TICKET(S), WHAT HAPPENS NEXT?
We will mail you the ticket(s) you ordered.
You must bring your ticket with you to be admitted to the theater.
If you order tickets for family and friends, you are responsible for giving them their tickets and informing them that they must bring their tickets to be admitted to the theater.
PLEASE NOTE:  Seats are limited and no one will be admitted to the theater without a ticket.
The event will take place at the
Radisson Hotel Harrisburg
1150 Camp Hill Bypass
Camp Hill PA 17011
Use the CONVENTION CENTER entrance.
The theater doors will open at 6:30 p.m.
There is open seating, first come, first served.
The video will begin at 7:00 p.m. and end when Diamond & Silk conclude their presentation.
Please remain in your seat when the video ends as Diamond & Silk make their way to the theater from the ballroom.
After Diamond & Silk finish their brief chit-chat in the theater, please remain seated until after they depart the theater.
Then you are free to depart.
PLEASE NOTE:  Diamond & Silk are coming to help raise vital funds to benefit the life-saving work of the Pennsylvania Pro-Life Federation Education Fund, a 501(c)(3) tax-deductible charity.  A free-will collection will be taken in the theater and your donation will help us save lives.
If you have any questions, please call 717-541-0034 or email lifelines@paprolife.org