When is a baby a baby? According to the abortion industry, it depends on the mother.
The definitions of "baby" and its "life" are relative to its mother's wishes, abortion staff tell undercover investigators in a new video released by Live Action. Watch it here.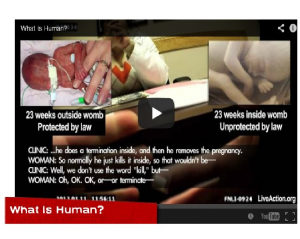 LeRoy Carhart, a Maryland late-term abortionist, says, " … life begins when the mother thinks it begins, not when anybody else thinks it begins. For some women, it's before they conceive; for some women, it's never. Even after they deliver, it's still a problem, not a baby."
And an abortion counselor in New Mexico says, "Well what – how – what do you consider a baby? It's definitely a fetus. … Um, it depends what the term 'baby' means to you, and how you perceive it."
The truth is not relative. It is not something we perceive. And the truth is on our side.
Whether society calls it a fetus or a zygote or a baby, it's still a human being whose life begins at the moment of conception. Those are unarguable scientific facts.
And women deserve the truth.
——————————-

Learn more about Live Action's investigation of abortion centers during our 2013 Celebrate Life Banquet in Pittsburgh this October. Lila Rose, the young pro-life advocate and founder of Live Action, will be our featured speaker. Find out more by clicking here. Please join us for this special evening!